Chloë Grace Moretz has had an exciting dating life and has been linked to many boyfriends and, recently, a girlfriend. She was known to be in a highly publicized relationship with former model Brooklyn Beckham before kissing Playboy model Kate Harrison.
Chloë Grace Moretz is an American-born award-winning actress whose career started when she was seven. Five years after her career kicked off, her father declared bankruptcy, abandoned them, and they eventually lost their home.
However, the actress has made a name for herself with movies like "Let Me In," "Kick-Ass," "If I Stay," "Mother/Android," "The Equalizer," "The 5th Wave," "Greta," "The Miseducation of Cameron Post," and more.
Is Chloë Grace Moretz Dating Now?
At the time of this publication, Moretz is not in any known relationship as she has not been photographed with any love interests in a long time. However, she prefers to keep her personal life private.
The actress, born on February 10, 1997, currently stars in the TV series "The Peripheral," which is still filming, and also voices a character in the animated film "Nimona." She is also expected to appear in "Love Is a Gun" and "White Night."
In August 2022, she was spotted on vacation to Disneyland with friends to celebrate with her best friend, Mia Bensimon. However, she has not appeared publicly with a boyfriend or girlfriend.
Chloë Grace Moretz's Boyfriends
Moretz officially only dated Brooklyn Beckham, an English media personality, former model, photographer, and son of David Beckham and former Spice Girl and fashion designer Victoria Beckham.
The couple reportedly met during Paris Fashion Week between February and March 2014. It was not until July 2014 that they made a public appearance while skating on the streets of Los Angeles.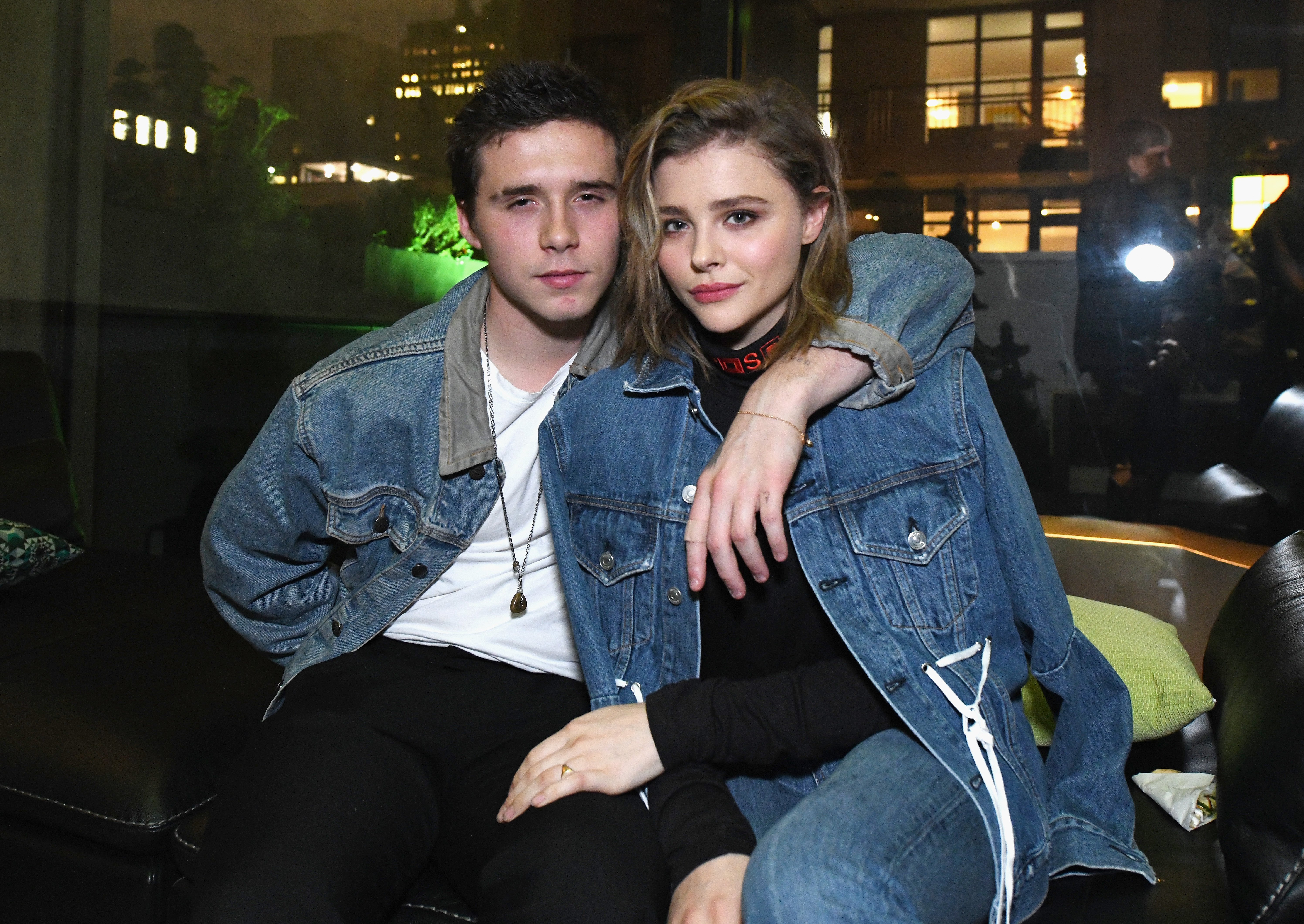 Brooklyn Beckham and Chloë Grace Moretz at the Xbox Live Session in New York on November 6, 2017 | Source: Getty Images
Their relationship was on and off until 2016 when the actress confirmed they were dating and made their red carpet debut at the premiere of "Neighbors 2: Sorority Rising." Two years later, their relationship was officially over.
Nevertheless, Moretz has been the subject of rumors for years as the press has linked her with different men speculating they were her boyfriends.
In 2014, shortly after the premiere of "If I Stay," which she attended with Beckham, Moretz was spotted with Julian Moraes leading to rumors about a relationship between them.
Moraes was not in the entertainment industry, and there is no proof they dated. Two years later, after she shared a Snapchat of herself and Brazilian footballer Neymar.
Before the Snapchat post, the actress had tweeted in the past that she had a crush on the footballer. After the release of her movie "The 5th Wave," the footballer also revealed that he took time to watch the film.
There were rumors that Moretz dated her co-star Alex Roe from "The 5th Wave." The couple reportedly had a fling in February 2017 because they were cuddly when she had her 20th birthday celebration.
After her relationship with Beckham ended, she hung out with "Teen Wolf" actor Dylan O'Brien. Some reports revealed that even though they didn't arrive at the restaurant simultaneously, they acted flirty and touchy-feely.
Dylan O'Brien at the 2022 MTV VMAs in New Jersey on August 28, 2022 | Source: Getty Images
Chloë Grace Moretz and Kate Harrison's Relationship
Chloë Grace Moretz may have family drama, but the actress prefers to keep her private life drama free. However, she has experienced drama from the press as there has been attention on her dating life.
In December 2018, paparazzi spotted the actress with Playboy model Harrison as they were leaving Malibu's Soho House after a dinner date at the Japanese restaurant Nobu.
As they left the restaurant, the couple reportedly shared a kiss for 30 minutes. Moretz and Harrison never confirmed their relationship, but the ladies enjoyed a night out in July 2022 at Giorgio Baldi in Santa Monica.
Harrison's father is a famous actor known for his role as Dr. George Alonzo "Gonzo" Gates in "Trapper John, M.D." while her mother is an actress and model who starred as Officer Bonnie Clark in "CHiPs."